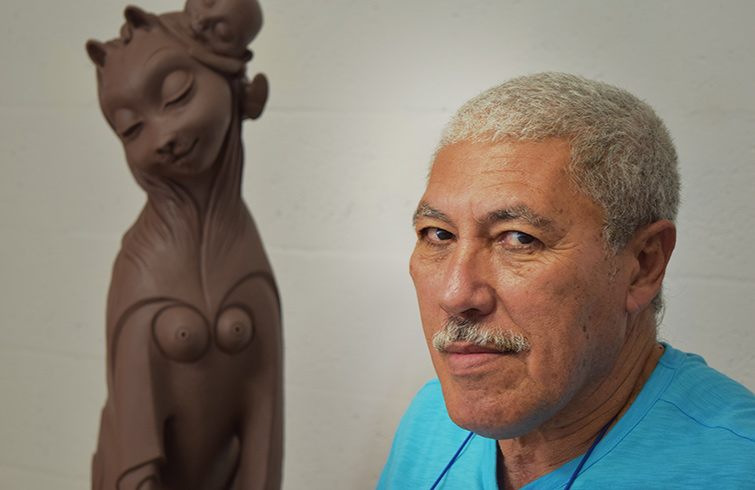 b. 1949. Pinar del Río, Cuba
He studied painting and drawing at the Academy of Plastic and Applied Arts of Pinar del Río (1961-1965), and later graduated from the National School of Art of Cubanacán, in Havana (1970). Throughout half a century of artistic career, his work has been awarded in several competitions, being exhibited in more than twenty personal exhibitions and hundreds of collective exhibitions in galleries, biennials - including those of Havana and Venice- and art fairs, among other key events in Cuba and numerous countries. Today a significant number of his masterpieces have become part of notorious public and private collections, including the large inventory hoarded by the National Museum of Fine Arts of Havana.
In consideration of his role as preceptor of several generations of young artists, Oliva has been appointed Associate Professor by the Higher Institute of Art (ISA) in Havana, and awarded the "Master of Youth" Award (2007), awarded by the Society of young artists Asociación Hermanos Saíz. For his meritorious creative career, his tireless philanthropic work-carried out fundamentally through the Casa-Taller Pedro Pablo Oliva cultural foundation (1997-2011) - and his essential contribution to Cuban culture, has gained wide recognition among his contemporaries and honors of the highest level such as the Order for National Culture (1988), the National Prize of Plastic Arts (2006) or the Prize "The Utility of Virtue", the latter awarded by the José Martí Cultural Society, among many others. In 1991 he was the first living artist on the island to exhibit in New York after 1959, and in 1993 his work entered the circuit of the most important auction houses such as Christie's and Sotheby's, playing in this way a role leader for the international recognition of Cuban art made on the island.